Murder of Czech Science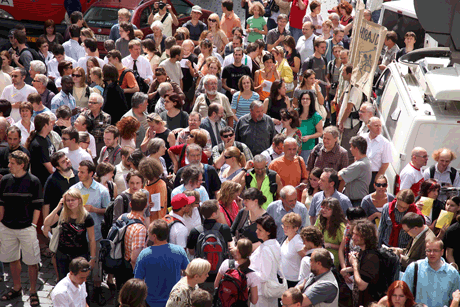 More than 200 researchers and their supporters protested against the reduction of subsidies given to the Czech Academy of Sciences in Prague centre. Within the protest called Murder of Czech Science, the participants issued a verdict on Czech science and symbolically hanged the Czech scientist from a window of one of the Academy's institute.The protesters had banners with slogans that mocked the arguments of some critics.
The lowering of subsidies would "in fact mean the liquidation of the Academy or at least of a large part of its institutes, including the most specialised," the organiser of the protest, Martin Krummholz, from the Art History Institute of the Academy, told journalists.

Photo: Stanislava Kyselová, Academic bulletin